.NET,
SQL
&
Database
Administration
Dedicated to generating efficient and dynamic websites tailored to meet your company's needs, we prioritize employing technology that creates visually stunning user experiences, reduces development time, and establishes seamless and secure communication, giving your company the benefits of a high-functioning website without the stress of being bogged down with complicated, technical problems.
As a result, our specialized team of .NET developers have committed themselves to producing quality, reliable, and scalable web applications using the Microsoft .NET framework. This framework offers a comprehensive and consistent programming model for rapidly and graphically building websites, and we utilize this vehicle to optimize clients' long-term investments while helping them increase their ROI.
Our highly proficient .NET programmers provide solutions for large and complex enterprise software challenges by collaborating closely with an in-house team of SQL developers and database administrators. Intended for use by most new applications created for the Windows platform, the .NET development framework utilizes a number of libraries in various programming languages that allow for communication with SQL databases. By using this level of integration, we provide your company polylingual product solutions and the application of object-oriented website design that is both accessible and easy to maintain.
Additionally, we pride ourselves on our .NET development because it saves your company money. Rich with reusable code and other components, .NET reduces the time it takes for developers to write their own code, thus taking less time overall to develop your project, and thereby reducing costs. Adding to your corporate benefits, our specialization with SQL programming and SQL development grants your company the best this comprehensive database server and information platform has to offer, giving your website uniquely high levels of performance, availability, and security.
Working hard to deliver the fast and effective results your company deserves, we are committed to using the agility of our design and development team to produce the finest solutions possible. From our team to yours, we guarantee only the best.
Digitized Incident Reports Streamline Patient Care and Eliminate Paperwork Backlog The Medic ClipBoard iPad App enables first responders from the fire department to create digitized Incident Reports out in the field. Our client, Digital EMS Solutions, Inc., has created an …
Learn More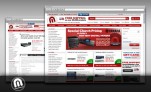 Saritasa, LLC of Newport Beach, CA is proud to announce the launch of MuzeekWorld.com created for the professional audio, video, & lighting equipment company, Muzeek World. Muzeek World has been in business since 1999 and their website was in great …
Learn More