3D
Modeling
Start up businesses competing in today's market face the tough challenge of making their websites and mobile applications stand out against those of already existing competitors. However, our specializations in 3D web development and 3D mobile development put your company directly in the spotlight, allowing for the creation of dynamic and interactive web and mobile applications that reflect the innovation and originality of your business.
Delivering developments in the third dimension to SMBs and start up companies, we bring website and application functionality to life by utilizing the latest 3D modeling software with the end result being rich and robust websites and applications that put forth incredible 3D content. Specializing in 3D configuration and support, our in-house team of skilled conceptualists, software programmers, and graphic designers work with you to develop an interactive and immersive feel that enhances the user's experience and the site's usability.
Experts in 3D modeling, rendering, and animation, our team of professionals can transform your 2D website into a dynamic 3D experience, tricking the eye into seeing depth on a flat screen. Employing the psychology of this visual phenomenon, our 3D web developers are capable of integrating 3D models to highlight critical information so that the user will more easily navigate through and absorb the messages you are trying to display on your company's site. Working to consciously add 3D images and videos where they best fit, our programmers can code everything from fully immersive 3D websites to sites that subtly employ 3D effects through the use of gradient and layer styles.
As outside-of-the-box types who love to be creative, our 3D web development team is fully dedicated to optimizing the powerful effects of 3D website design and app development to create new opportunities for outreach that are impossible in the second dimension. From developing 360 degree product views in 3D in order to allow consumers to more fully visualize your company's products, to creating visual simulations of entire environments, we can help find the right application of the third dimensional quality to your specific, business objective.
Customizable, strongly supported, and designed to meet your company's individual needs, Saritasa can provide the solutions you're looking for in 3D development.
iOS and Android Apps in 3D Give SMBs theOpportunity to Use Emerging Technology to Reach Mobile Device Users NEWPORT BEACH, CA, February 16, 2012— Saritasa, LLC, leading provider of technology services and internet marketing solutions for small and medium-sized businesses, today …
Learn More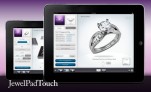 Saritasa, LLC of Newport Beach, CA is pleased to announce the release of The Jewel Pad Touch. The Jewel Pad Touch is a patent pending enterprise level software program designed to showcase jewels in a whole new way.
Learn More