3D
App
Development
Step Aside Hollywood!
The 3D experience is no longer limited to popcorn-infused theaters. Our 3D development team brings the three-dimensional world to life through captivating 3D apps, 3D games, and 3D software.
Leaders in web development, 3D development, and game development, we provide unique talent in 3D design, 3D modeling, 3D rendering, and
3D animation to deliver an expansive range of application options and product solutions. Leveraging the engaging qualities of 3D animation, we create fully immersive 3D apps, 3D games, and 3D software that are both instructive and entertaining for a wide range of leading desktop and mobile devices.
Our game developers create interactive, visually stunning 3d games using the Unity3D game development platform. Combining deep experience and expertise in cross-platform development and Unity3D development, we deliver engaging 3D games which exceed expectations and push the limits of imagination.
There is no need to settle for flat two-dimensional applications, our skilled 3D developers will take your next project beyond the ordinary and create extraordinary three-dimensional experiences for your target audience. Whether you require custom applications for business, navigation, training, or for entertainment purposes — 3D apps provide the captivating, realistic simulations that the second dimension fails to offer.
For show-stopping 3D apps, 3D games, and 3D software, you need exceptional 3D development. Call today and let's get started!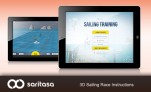 The 3D Sailboat Racing iPad App Gives Users The Opportunity To Learn About The Effects Of Wind Shifts Before Even Getting Out On The Water Saritasa, LLC, announces the development of the new 3D Sailboat Racing iPad App. The Saritasa …
Learn More
iOS and Android Apps in 3D Give SMBs theOpportunity to Use Emerging Technology to Reach Mobile Device Users NEWPORT BEACH, CA, February 16, 2012— Saritasa, LLC, leading provider of technology services and internet marketing solutions for small and medium-sized businesses, today …
Learn More